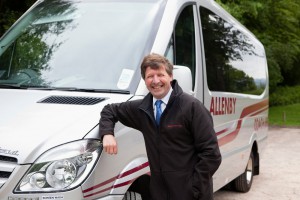 Welcome to the Summer edition of our quarterly newsletter.
June and July are always hectic months for Allenby – so this is just a sample of what we've been up to.
I hope you find something of interest below – I look forward to hearing from you if you think we can help, but meantime, if you're off on holiday soon, have a great break.
Very best wishes
John Dewberry
---
Our reviews
Thank you to all those who continue to contribute to our reviews. In the last 3 months we've notched up another 25 reviews and maintained our score of 4.89 out of 5. Here's just a few comments from recent guests:
I was on the recent trip with the Croydon Parkinson's Group to Bewl Water, and Andy our driver was very helpful, got us there in good time, and brought us back a different route through the countryside and villages which we enjoyed. The coach was comfortable as well.
From when I made the booking with the help of both Linda and John, I knew we were in safe hands. Thank you so much for your efficiency and patience and great driving!
Geoff was considerate and helpful and our parish women's group would recommended him to anyone.
The coach was clean and comfortable and arrived punctually. Bernard, the driver, was very amicable and drove well.
If you hear of anyone who might need help, we'd be grateful of a mention 🙂
Thank you
---
On the road
As I mentioned in the introduction, June and July are always action packed months for Allenby – so here's just a few of our trips in the last 3 months:
We took:
Chaldon WI to Bletchley Park
Bromley Portage to Godstone Farm
Emily Ash Trust to Top Shop in Oxford Street
Knights Garden Centre to the Hampton Court Flower Show
Warlingham Probus to Chatham Dockyard
Old Surrey & Burstow Pony Club to the Badminton Horse Trials
Godstone Gardeners on a fantastic selection of trips
Other places we visited this quarter that you might like to take a look at include:
Lingfield Park racecourse
Bluebell Railway
Sheffield Park
Watts Gallery
Southmere Boating Centre
We've also taken a few groups of children to Wild Wood and AirHop, both near Guildford
With the wedding season well and truly upon us, we've been to church any number of times – and also to a number of other venues such as Falconhurst and Squerryes Court
Finally, we were delighted to be asked to provide transport for the Antiques Roadshow at Nymans Gardens
The next 3 months should be equally action packed – we look forward to updating you next time.
---
Behind the scenes
OK – so let's talk about Euro 6 emissions!
Not the most riveting of subjects I know. But actually this is a really rather important piece of legislation.
It's been 25 years since the 'Euro 1′ standard required the fitting of catalytic converters to petrol cars, reducing the levels of carbon monoxide being released into the environment.
Euro 6 is the latest in this series of standards and seeks to reduce pollutants such as hydrocarbons, oxides of nitrogen, particulate matter as well as carbon monoxide.
Needless to say, although these new standards have been expected for a while, it will mean major changes for anyone running their business using on-road vehicles. The mayor of London has put in place legislation that will prevent non-Euro 6 vehicles from entering the congestion zone by 2019. So before too long companies that don't make changes to their fleet won't be able to offer trips into London!
Because of our policy of replacing all our vehicles every 3 years, we've been choosing to buy Euro 6 vehicles and already more than half of our fleet is compliant with the new Euro 6 emissions legislation. We will be fully compliant by the time the legislation is introduced.
Yes – you can rely on Allenby 🙂
https://www.allenbycoachhire.co.uk/wp-content/uploads/2014/09/logo_9.png
0
0
John Dewberry
https://www.allenbycoachhire.co.uk/wp-content/uploads/2014/09/logo_9.png
John Dewberry
2017-08-03 14:00:33
2017-08-03 14:00:33
Allenby News July 2017